If you are relocating soon, but you don't have enough savings, you're probably wondering how to save money to move. It would really make the entire experience much more convenient to know how not to pay higher prices for the equipment, transportation, and a lot of other additional expenses. And besides, once the move is done, it is necessary to have some cash left for the future place. Let's try to figure out how you can manage this.
How Much Money Should You Save Up Before Moving?
You should research the actual cost of living in your future city before you move out. For example, start with food, calculate how much groceries will cost you on a monthly basis. Then transportation to work depending on whether you have a car or you'll be using public transport, study the price of gasoline or monthly transport tickets. Also, utilities like cable, internet, gas, and electricity can cost a lot. Of course don't forget the extra expenses such as things you will need in your house if you are not moving furniture, in case you have to buy a new one, and the essential thing – relocation costs. There are many other factors to consider, such as rent, deposit, and shipping expenses, so keep reading to find out more about them.
Why Should I Be Saving Money to Move?
The relocation process is often stressful if you don't have enough cash saved for rent or don't know how to move to another state with no money. Other expenses, like relocation costs, deposits, and transportation, still need to be considered. The financial repercussions of relocating from one apartment to another one can be daunting, especially if you're moving out for the first time and you are not aware of all the possible expenses. Here are some of the most significant expenses you'll face, so ensure to make room for them on your moving expenses checklist.
Moving Costs
The price you pay for relocation services depends on various factors such as the distance of the location you are going to, the season, the type of transportation you are using, and whether you are doing everything yourself or hiring a relocation company. Be sure to count on spending some cash on packing materials and renting a truck and equipment.
Cost of Shipping
The price of shipping can vary greatly and depends on different factors like the amount of goods, the distance, and the time of year. You can ship a car in addition to your belongings if you're relocating across the state. The average cost of shipping a vehicle depends on what sort of trailer you want, how far it is going, and your pick up and delivery requirements, so do your research on the cheapest way to move out of state and find a reliable long-distance moving company.
Paying Rent
Is $5,000 enough to move out? It depends, but in most cases, you should save up some more. Don't forget factors such as insurance that need to be paid once a year. When you move out, these expenses will tell you how much you need to save. Is 10,000 dollars enough to move out? While $10,000 is a great start, in the ideal case scenario, you should have at least three months' expenses in savings when you decide to relocate.
Deposit
In addition to a first month's rent, a deposit is a one-time, refundable amount of cash a landlord receives from a tenant. The good news is that you have the right to get your cash back if you have paid all the rent and left the house in the same state as you found it. On the other hand, you can wait much longer if there are some disagreements.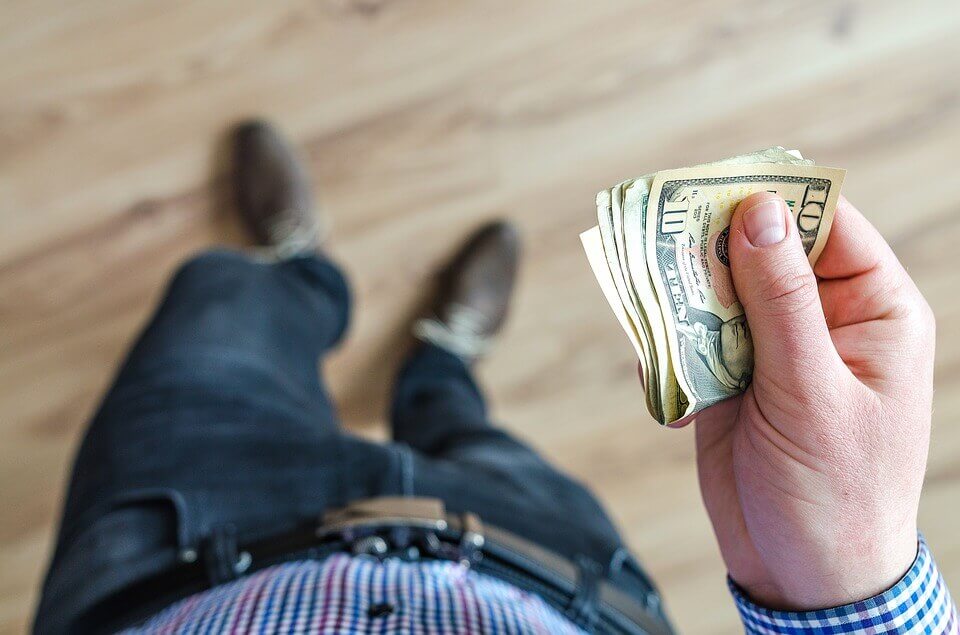 Don't Forget to Use These Money-Saving Tips – You Can't Find Them in the Books
What is the least expensive way to move? Here are a few tips that can reduce the price of relocation a lot. Follow these budget-friendly tips, and we're sure you'll find ways to make your move a lot more cost-effective.
Organize a Garage Sale and Sell Items You Don't Use Anymore
The first piece of advice is to declutter. Once you've done that, we suggest organizing a garage or yard sale. This way, not only can you reduce your shipment's weight, but you can also make some additional cash on the side that can cover your expenses.
Don't Buy Items You Don't Need for Your New Home
Of course, it is tempting to buy everything you see for a new home, but try to control yourself, don't turn your new home into a storage of useless things. To begin with, you need the basic things for life, and later you will be able to decorate the home when you know how much cash you have left in the budget for decoration and interior design.
If You Don't Want Movers to Help You – Do Everything Yourself
What is the least expensive way to move? Well, you can try to do it all by yourself. Everything that professional companies do, you can DIY. Of course, it will be hard to assemble and disassemble furniture, load a truck, pack delicate things in the best possible way if you don't know all the moving hacks. But you can definitely give it a try, and if you fail, you can always call an interstate moving company for help.
Ask Friends to Help You Pack
If you can't afford to spend money on packing and other related services, you can invite your friends to help you pack and throw a moving away party at the same time. Some of them surely know how to pack dishes for moving or how to pack fragile items. Just call them, because you should say goodbye to them and enjoy your last days together before you move.
How to Save Money to Move? Find Free Packing Supplies
Packing supplies are some of the main expenses during the move. Instead of spending a lot of cash on these things, you can get boxes for free in your local grocery. You can also recycle since there is no need to use completely new materials unless you are packing incredibly delicate or heavy stuff. Spare some bucks on packaging materials and use what you have around the house, like blankets and pots and pans, instead of boxes to pack your belongings. If you want some more budget-friendly ideas, watch this video to see how to save money on moving and packing materials.
You Can Always Rely on Professional Long Distance Movers
The trick to budgeting is making an optimal schedule, whether we're talking about relocation or any other major event in your life. You should do your research on relocating companies and discover the most reliable long-distance moving company in advance. If you choose cross country relocating services such as storage, packing services, or auto transport from a reputable company, your only job will be to relax and enjoy the ride. They will help you avoid moving mistakes if you are doing everything at the last minute and you don't know how to pack to move in a hurry. However, don't forget to ask them about items movers won't move to avoid common mistakes.