When it comes to unpacking after a move, people often have a dreadful fear of this process. However, it symbolizes a new phase in your life. Be ready for a period of adjustment, which includes looking for the best furniture and color choices for your home.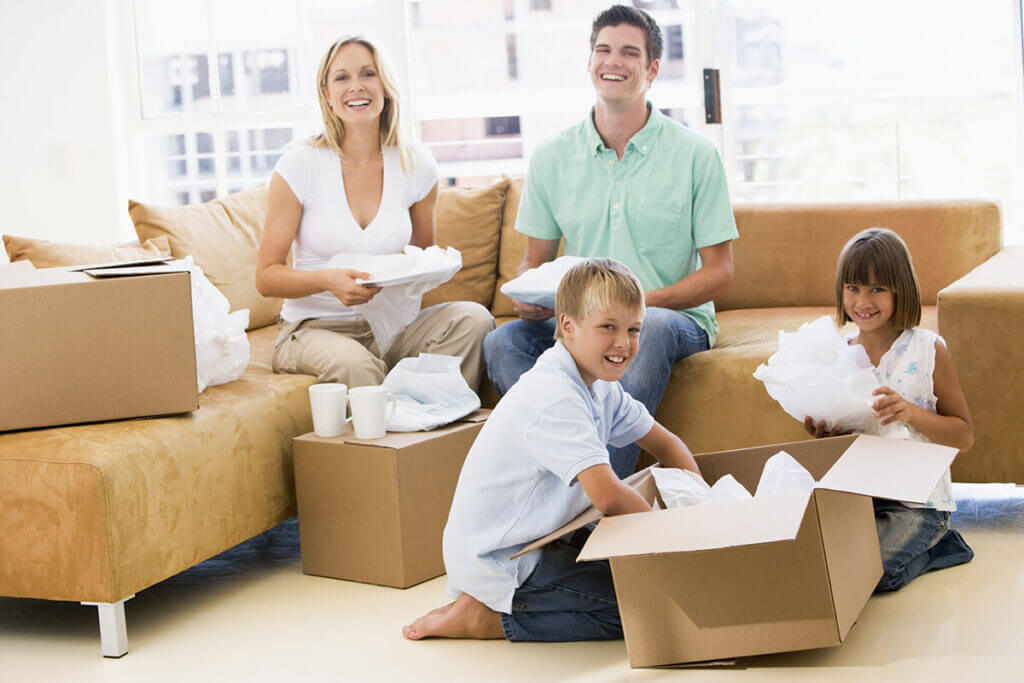 If you've done the proper steps during your packing, including labeling the boxes, filling out the inventory list, and marking doors of the rooms according to it, there's nothing to worry about. In case you took photos of shelves and electronic cables before packing them, your unpacking will be a piece of cake.
If you are planning to organize a DIY move, it might take some drudgery labor. Take into consideration additional help when it comes to transportation and unloading the packages. But if you choose a reliable and professional company with moving and packing services, you can rest assured that things will be unpacked faster. You can rely on the mover in the situation when boxes need to be placed in the right room, too. One more benefit of having a moving crew around you when everything looks confusing and unbearable is the possibility to ask them to put some of the bulkiest furniture pieces on the desired spots.
Whatever option you choose as the most reasonable for you, don't forget to tip the movers if they did a great job. Of course, you don't need to pay for your friends' help – make sure to provide them with a fast-food takeaway in time and refreshment after a day of hard work.
With our tips and tricks, you will find out how to handle the period after moving and how to make it stress-free, having the right answers to obstacles and unpredictables that may occur.
Unpacking After a Move Should Be Fun
You are the only one who knows what things you've done to reach this step – to relocate to your new home! Precisely because of that, congratulate yourself, pat yourself on the back and stop worrying. The time has come to enjoy the fruits of your labor. Yes, after you unpack those piles of boxes. However, don't let that make you frustrated or sad. All family members should take care of their belongings, and that's how you will settle in, step-by-step. Remember how you labeled your furniture and boxes while packing. By using the checklist as a guide, everybody should be occupied with unboxing their belongings shortly after you move in.
Who Doesn't Like Colorful Boxes
Only one quick look at the crowd of packages in the middle of the room can bring tears to your eyes. To avoid feeling blue, start playing with your thoughts. Instead of thinking about all the tedious work that is waiting for you, be positive and go one step further. Knowing this is the last task to do before you can finally enjoy the coziness of your home might motivate you to have fun while emptying the kitchen items and putting towels in the bathroom.
If you were creative during the packing, your boxes should be marked with different colors, tapes, and drawings. Colors have a high impact on a person's mood and can be a great psychological trigger, but in a positive way.
Which Room Is Best to Start With?
No matter how enthusiastic you are about unpacking as many things as possible, ask yourself where you should start. We will reveal one tip that can help you with choosing the best room: unpack your kitchen and bathroom first. A warm bath and hot coffee are strength elixirs after a long moving day. There is no need to empty the box with all toiletries as soon as you enter the apartment. It's enough to put essentials on the shelves. But, don't forget to clean the kitchen cabinets and bathtub and tub jets before that.
Unpack the Moving Boxes With Essentials
These necessities usually travel with you in the vehicle. But, in case you didn't designate a box for high-priority items, start searching inside the boxes for everything you need for the first couple of days, such as:
Basic toiletries
Medications
A Book
Paperwork with addresses and telephone numbers
Basic food preparation items
A change of clothes
Chargers
Don't Unpack Everything
Maybe your energy is at its peak, and you might feel capable of furnishing all the rooms just in one day, but don't rush. Unless your goal is to become weakened and overworked. However, that won't make rooms equipped either. Save something for tomorrow and the day after that. Make your daily schedule, and your job will be completed gradually.
First Things First – the Kitchen
After cleaning the kitchen cabinets and countertops, it's time to hook up the refrigerator and stove. Having in mind that kitchen accessories are sometimes very tiny and there are plenty of them, be focused on smaller but useful appliances, such as the coffee pot and toaster. Also, unpack plates, bowls, and pans. That will be enough to make a decent meal and drink your tea from your favorite red mug instead of a plastic one.
You'll Feel Exhausted After Moving
Take into consideration how busy you were in the last several weeks, even months. If you feel significant fatigue occasionally, it is understandable. Be mindful and give yourself time to regain energy and strength to unpack the rest of the packages.
Enjoy Fresh Coffee and Related Leisure Activities
One of the best methods to feel refreshed again and get ready for new challenges is to hang out or invite your friends to your new place. Moments of relaxation in the middle of the unpacking process might give you a brighter picture of it. Sometimes just one sincere and relaxed chat with your buddy can offer you a different point of view of the situation.
Use Your Time Thoughtfully – Unpack Step-By-Step
After setting up bedrooms, kid's room, kitchen, and bathroom, you can think about decorative items, for example, wall art and things for the patio, landscape, and deck. In case you didn't equip all the rooms thoroughly, don't panic, since that can be a fantastic opportunity for additional works. For instance, you might be inspired to change the color of the walls in the living room.
Don't Rush With Garage
Last but not least is tidying the garage space and basement. Since they are not of vital importance for your daily activities, it might be frustrating to start unpacking boxes with tools and sports equipment straight away. But, prolonging too much won't help, and finally, you should pick one day to sort all these items and put the finishing touch to your unpacking.
Additional Tips on How to Unpack Efficiently
To reduce a great deal of time in organizing and placing things where they belong, consider these additional tips for unpacking that can make this process go smoothly: